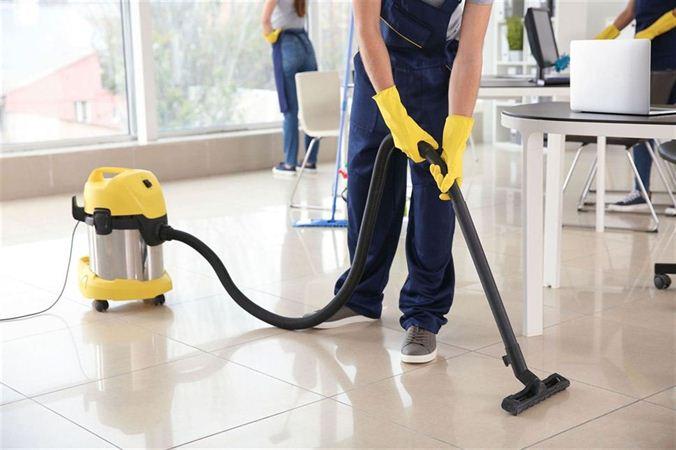 There's a lot of work that goes into keeping any space clean, and offices are no exception. In fact, offices can be some of the toughest areas to clean by virtue of the number of people who inhabit them – the more people you have in a space, the more mess you can end up with! Office cleaning typically doesn't involve cleaning out individual cubicles or desks; after all, you wouldn't want something moved from its proper space. Office cleaners will, however, clean most of the things in your office space.
Office cleaning will often consist of work that resembles household chores – just on a much grander, more consistent scale. That means the floors will be vacuumed and mopped, garbage will be taken out, windows will be wiped, and surfaces will be dusted. You can also expect the bathrooms to be cleaned on a daily basis and restocked when appropriate, including refills of the soap dispenser. The people cleaning your office might also run the dishwasher for you, wipe down mirrors and other glass surfaces, and even polish brass and other shiny metallics. You can also expect spot cleaning on areas walls that have been stained. 
There are a number of tasks that might take place less often; say weekly or bi-weekly. These tasks could include polishing the floors, useful for when you have hardwood or polished concrete. You can also ask your cleaners to empty out the fridge on a weekly basis. They might also squeegee the windows from the outside – depending, of course, on how high up your office is!
Other tasks will be tackled monthly – these tasks might include vacuuming fabrics like on chairs and couches. You could also ask for vents to be vacuumed, for a deep clean of the walls and other surfaces, and for a thorough dusting that includes ceiling fans and other hard-to-reach areas.
As you can see, there's a lot that goes into office cleaning, but we're really only touching the surface; there are a number of other ways cleaners can help because each office has its own particular set of needs. You might have a metal sculpture that needs an extra bit of care; talk to your cleaners about it! You might have employees who are particularly sensitive to dust; you can ask to have a thorough dusting done more than once a month. One practical way of customizing services is to do a walk-through of the office with your cleaners, pointing out areas of concern and asking them what their process is. From there, you can work together to create a checklist, ensuring that things are being cleaned on an appropriate schedule. Should you need to adjust the schedule, it's easy to do!
Professional commercial cleaning services in Edmonton offer a lot of advantages from HEPA filter vacuums to minimize dust allergies to comprehensive janitorial services. No one wants to work in a dirty office. When your surroundings are clean, your mind is clearer, work is easier, and you're happier and healthier. That's the power of cleanliness!